Fireworks are fun but can be tricky to photograph without the essential tools - Here's what you should take with you to make sure the shot is done right!
What do you need to capture fireworks?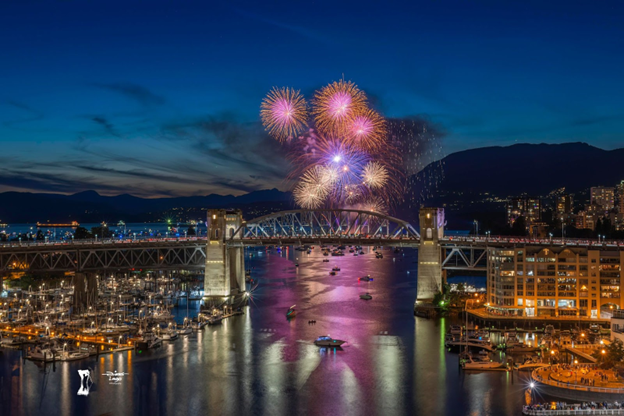 Photo by : @dioneslagophotography
Shooting fireworks is a waiting game, which is why a tripod is the Number 1 accessory you need to stabilize your camera. Your tripod is also a great tool to help you visualize where the fireworks would be and what kind of elements you would like to include on your shot. You would need this as well when you use slower shutter speed to create that light streak on the fireworks.
it's hard to gauge when the fireworks would fire and having a cable release helps to maintain your visual to the actual fireworks - just press the remote to start and stop your exposure.
Having a few more batteries on hand are always handy as you would be taking photos in slower shutter speeds. The camera needs to work harder to get the shot and therefore drains the battery faster.
Having a good range of lens to take with you on your shoot would be a big help to guide you with your composition. Normally, a 24-105 mm lens would cover the range depending on where you plan to shoot.
One thing that we always need in our camera bag (especially living in Vancouver)is a rain cover for your camera. Raincouver Weather is very unpredictable so having one readily available is handy.
What settings do you need to capture fireworks?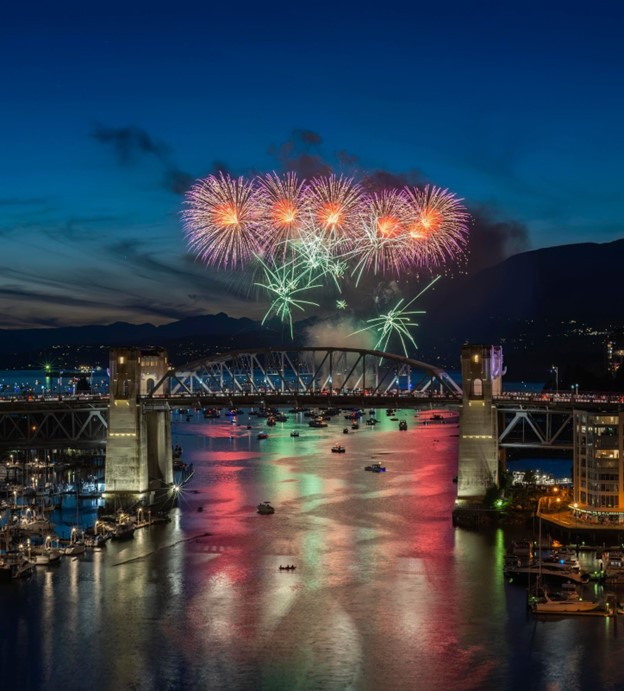 Photo by : @dioneslagophotography
Aperture: For APS-C sensor size camera, F8-f11 and F11-f16 for Full Frame size camera
Shutter Speed: It's hard to say what shutter speed to use as it depends on the ambient light that you have. Normally you would want to use a slower shutter speed to create the streaking light effect that you get from fireworks. In general, , 1- 4 second exposure is what you need to use to have the longer streaking effect.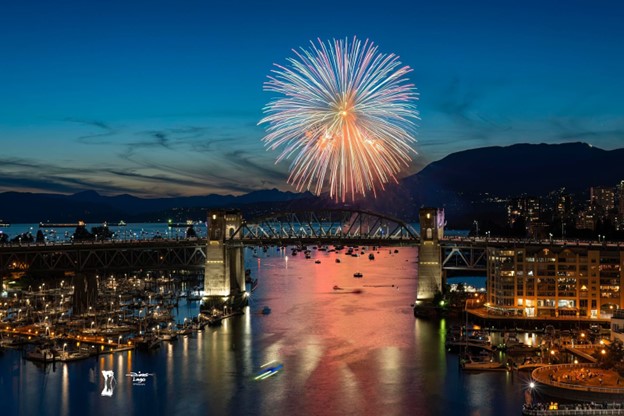 Photo by : @dioneslagophotography
ISO: Plays a big role in shooting fireworks but same as shutter speed, it's very hard to get a predetermined ISO speed. ISO 800-1600 will be your safest bet.
Focusing: Very important to switch your lens to manual focus. If you forget to switch this, there's a higher chance that it won't focus correctly on the fireworks. I would highly recommend going to your planned spot earlier than usual to save your spot, Visualize the composition, set up and focus correctly and switch your lens to Manual.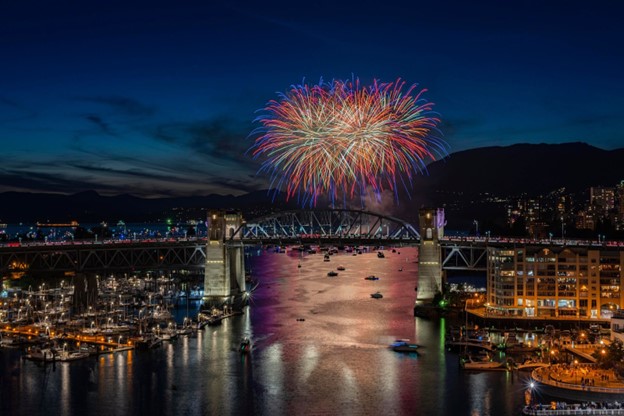 Photo by : @dioneslagophotography
Other things to consider:
- A foldable stool is always good to have, especially if you're going to the location earlier to get the prime/best spot.
- Snacks, it's going to be a waiting game so having a snack with you is always a good idea.
- When you get to your spot, take a sample photo and see the settings that you have, you will be adjusting these settings as it gets darker closer to the fireworks display. Normally they would do a test fire so coming early is very beneficial.
- When exposing closer to the firework display, don't expose longer than intended as it would overexpose the light streaks. Fireworks are very bright so when you use a longer exposure and a high ISO, there's a chance that the photo would be over blown.
- The first minutes are crucial, that's when you want to take photos, after a few minutes there would be smoke in the air from the first sequence.
- Lastly, enjoy!! Play around with the settings and different focal length and have fun!! Tag us at #broadwaycamera on Instagram so that we can check out your masterpieces.
July 27th - Canada by Midnight Sun Fireworks, with preshow from Red Bull Air Show and Canadian Snowbirds
July 30th - Spain by Pirotecnia Zaragozana, with preshow from Red Bull Air Show
English Bay Vancouver
10pm - 10:25pm
Author: Paolo Capili | @juansuplado
Images provided by Diones Lago | @dioneslagophotography